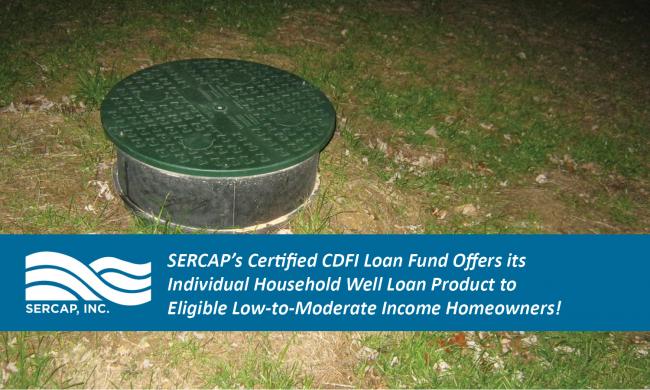 Currently, SERCAP's Certified CDFI (Community Development Financial Institution) Loan Fund is assisting a low-income single man living in Montgomery County, VA, to have a new individual household well installed at his home. Recently, he began experiencing difficulties with his existing well, which has gone dry, and is in need of replacement. However, due to his low-income status, he could not afford the cost of having a new well drilled on his own and therefore reached out to SERCAP for some financial assistance.
Fortunately, SERCAP's certified CDFI Loan Fund was able to approve him for an affordable Individual Household Well Loan in the amount of $15,000.00, with an interest rate of 1% and a monthly payment of $131.41. The construction has been awarded to a local contractor, Rorrer Well Drilling, Inc., and the drilling work will begin as soon as the paperwork with the local circuit court has been finalized. Once the project is complete, it will fully restore reliable access to clean, safe drinking water at the client's home.
In the long-term, the positive impact of this project will be, the improvement to the overall Quality of Life for the client, due to the improvement of his Environmental Health and Economic Self-sufficiency. This project will positively impact the Environmental Health of the client, by: 1) restoring reliable access to potable water at his home, and 2) preventing the potential financial burden, which could have occurred if an affordable loan had not been available to support the project cost, (potentially having a negative impact on the client's mental and emotional well-being). The project will also positively impact the client's Economic Self-sufficiency by increasing his personal assets through the increased value of his improved property. Additionally, the project will improve the Economic Self-sufficiency of the community-at-large, by encouraging property improvement, neighborhood revitalization, and by increasing the current property tax-base for Montgomery County.
*Funding for SERCAP's Certified CDFI Community Development Loan Fund is primarily made possible by USDA Rural Development, and SERCAP's own Agency Revolving Loan Fund. Additionally, all of SERCAP's programs in Virginia are leveraged by an annual Budget Appropriation granted to SERCAP by the Virginia General Assembly, and administered by the Virginia Department of Housing and Community Development (DHCD).