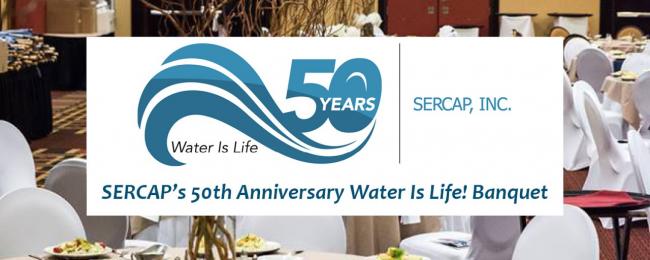 Each year, SERCAP hosts the annual Water is Life! Event to recognize the year's accomplishments in the fields of water, wastewater, housing, and community development, and to raise public awareness of water issues and major challenges facing rural America. While every year is an important occasion, 2019's Water Is Life! marks a significant milestone in SERCAP's history. This year, SERCAP is celebrating 50 Years of bringing reliable access to clean, safe drinking water; environmentally sound wastewater facilities; affordable housing that is warm, safe, and dry; and sustainable community development solutions to small, rural communities and low-to-moderate income individuals throughout the Roanoke Valley, the Commonwealth of Virginia, and the southeastern United States.
In recognition of this milestone, SERCAP's 2019 Water Is Life! Event will be a 50th Anniversary Celebratory Banquet held at the historic Hotel Roanoke & Conference Center in beautiful downtown Roanoke, VA. The event will take place on Thursday, April 25, 2019, with a Reception begining at 5:00PM, and Dinner served at 6:00PM.
Over the years, SERCAP's Water Is Life! Event has attracted substantial speakers from famed Author and Poet, Nikki Giovanni, to Tree T-PEE's Johnny Georges, to Virginia Tech Researchers and Faculty, Dr. Kelsey J. Pieper and Dr. Daniel McLaughlin. This year SERCAP is excited to announce that the Keynote Address will be delivered by Mia Birdsong (opens new window).
Birdsong graduated from Oberlin College, was an inaugural Ascend Fellow with the Aspen Institute, and was a Class of 2016 New America CA Fellow. Currently, she is a program fellow with the Family-Centered Social Policy program at New America, and she sits on the Board of Directors of both Forward Together and the Tannery Word Dance & Cultural Center. Additionally, she serves as Senior Fellow at the Economic Security Project, and she was founding Co-Director of Family Story (opens new window). For more than 20 years, Birdsong has championed the transformation of the public's view on poverty by uplifting, leveraging, and advocating for "the brilliance of everyday people so that our collective gifts reach larger spheres of influence, cultural and political change, and create wellbeing for everyone." In a 2015 TED Talk, The Story We Tell About Poverty Isn't True (opens new window), Birdsong describes reframing the definition of success to be hard work, luck, and privilege, rather than just hard work alone.
Join SERCAP, in April, for this Banquet and all it's 50th Anniversary Water Is Life! Celebratory Activities. On Wednesday, April 24, 2019, SERCAP will host it's Annual Open House at it's Headquarters at 347 Campbell Avenue, SW, Roanoke, VA 24016. Then on Thursday, April 25, 2019, join SERCAP's Board of Directors and Staff at the Hotel Roanoke & Conference Center for the Water Is Life! 50th Anniversary Celebratory Reception and Banquet.