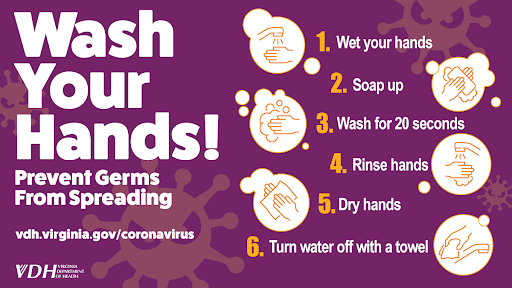 Dear Clients, Friends, and Supporters,
I'm hoping this email finds you and your family members and colleagues staying healthy during the COVID-19 pandemic. I am touching base to share information with you- our community and government partners, funders, and donors- about what my team and I at Southeast Rural Community Assistance, Inc. (SERCAP) are doing to help SLOW THE SPREAD of COVID-19.
Over the next 15 days, effective midnight, Tuesday, March 17, 2020, we are focused on keeping our operations running smoothly as we keep our staff and all those with whom we interact healthy. Our emphasis is on helping to limit in-person interactions so we can do our part to slow the spread of COVID-19. I've advised SERCAP team members of the following operational directives:
Listen to and follow the directions of our STATE AND LOCAL AUTHORITIES.
Staff that have been identified to telework are working from home.
IF YOU FEEL SICK, stay home. Do not go to work. Contact your medical provider.
IF YOUR CHILDREN ARE SICK, keep them at home. Do not send them to school. Contact your medical provider.
IF SOMEONE IN YOUR HOUSEHOLD HAS TESTED POSITIVE for the coronavirus, keep the entire household at home. Do not go to work. Do not go to school. Contact your medical provider.
IF YOU ARE AN OLDER PERSON, stay home and away from other people.
IF YOU ARE A PERSON WITH A SERIOUS UNDERLYING HEALTH CONDITION that can put you at increased risk (for example, a condition that impairs your lung or heart function or weakens your immune system), stay home and away from other people.
Wash Your Hands!
Our Operating Hours:
Many of the staff are working in the Roanoke, Virginia Office - Monday – Wednesday - 8:00AM - 5:00PM
Many of the Roanoke, Virginia staff are tele-working Thursday – Friday
All other offices are tele-working Monday – Friday - For the next two weeks
Beginning March 31, 2020 all offices will continue to work the condensed work schedule Monday-Wednesday in our offices,
and work from home Thursday through Friday
How to Contact Us:
We all have access to email. Please continue to send email to the team. This is the best way to reach us. If you leave a message on the phone lines we will also receive an email and get back with you. It is important to us that we make ourselves available to all stakeholders.
Resources for COVID-19 Updates:
We are following guidance and recommendations from the Centers for Disease Control (CDC) on best operating practices during this time. Click HERE (opens new window) for the latest updates and resources.
We are also closely monitoring updates from our service area state resource sites, and the links can be found below:
We look forward to continuing to be a resource for those living in communities large and small throughout the Southeast United States. Stay safe, stay healthy, and we will be here to serve you just as we have for the past 50 years.
Sincerely,
Hope F. Cupit
President & CEO, SERCAP