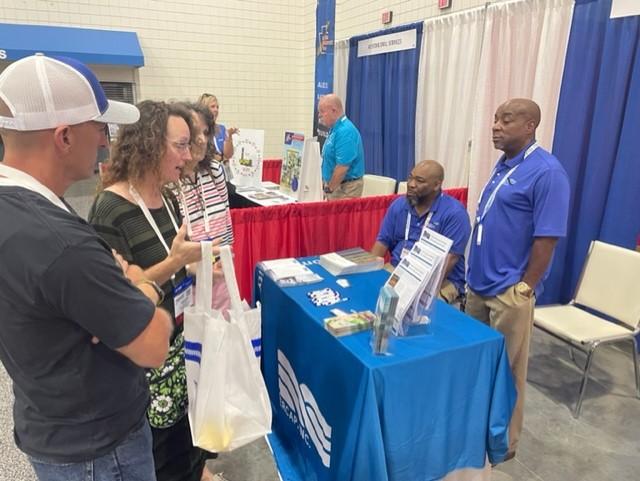 Recently, two members of SERCAP's Regional and Loan Fund staff from Virginia exhibited at the South Atlantic Well Drillers Jubilee in Myrtle Beach, SC. The South Atlantic Well Drillers Jubilee is an annual professional development event and tradeshow for the well drilling industry, which was started by the North Carolina Well Drillers Association in 1954. The 2022 event was attended by hundreds of well drillers from across both southeastern and midwestern states, including the Commonwealth of Virginia. Throughout the three-day event, attendees had the opportunity to participate in over 20 continuing education and track courses, with topics ranging from well rehabilitation and maintenance to managing and disposing of fluids and solids generated on-site during drilling.
SERCAP staff from Virginia attended the event specifically to exhibit at the Trade Show. SERCAP's booth provided information to attendees on SERCAP's Private Well and Loan Fund Programs, with a specific focus on SERCAP's Individual Household Well and Septic Loans. While exhibiting at the tradeshow, SERCAP staff interacted with over 40 drilling companies, and engaged in, in-depth conversations with 25 of those companies. The relationships SERCAP built during the networking event may lead to an increase in new clients due to the information shared and referrals provided by some of the well drillers in attendance.
Without SERCAP's full slate of Programs and Services, many rural communities and low-to-moderate income (LMI) individuals would be forced to go without such necessities as reliable access to clean drinking water, indoor plumbing, safe and affordable housing, community development and infrastructure needs, water/wastewater infrastructure solutions, and more. It is important to remember that even in the US in the 21st Century; there are those who do not have reliable access to clean, safe drinking water, environmentally sound septic facilities, and affordable housing. In order to help SERCAP continue to provide assistance to both the individuals and communities in need, please consider making a donation to SERCAP's Water Life! Fund!
Donate Today: https://sercap.networkforgood.com/ (opens new window)
*Funding for SERCAP's Regional Department is provided by the Department of Health & Human Services (HHS) Office of Community Services' (OCS) Grant, USDA RD's Technitrain Program, the Drinking Water Compliance Grant through the EPA, and the EPA Private Well Grant. Funding for SERCAP's Loan Fund Department is primarily provided by USDA Rural Development and the agency's own revolved loan funds. Additionally, all of SERCAP's programs and services in Virginia are leveraged by an Annual Budget Appropriation from the Virginia General Assembly, which is administered by the Virginia Department of Housing & Community Development (DHCD).