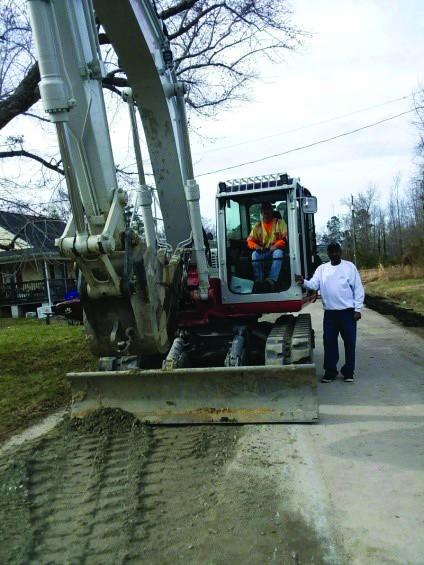 After years of struggle, approximately 28 low-to-moderate income homeowners of the Hobson community's Upper Village, located in the City of Suffolk, VA, will be able to connect to the City's public water system, thanks to substantial grant assistance from SERCAP. As previously stated in an update from January 1, 2018, SERCAP has been working with the residents of Hobson's Upper Village, over the course of several years, in order to help them gain reliable access to clean, safe drinking water by fully restoring stable water service to the community. The Hobson Artesian Well Association, which provided water for the community for years, has struggled for some time with issues related to capacity and compliance with state and federal drinking water regulations.
In June of 2018, the City of Suffolk, as part of their Comprehensive Plan, installed new water main lines along Sawmill Point Road, Hudgins Circle, and Macedonia Avenue, (the streets, along with a portion of Crittenden Road, that comprise Hobson's Upper Village), requiring adjacent households to connect to the public water system. However, the cost of connecting to public water would prove prohibitive for the low-to-moderate income residents of Hobson's Upper Village. By partnering with both the City and the local Community Action Agency (CAA), STOP, Inc., which sponsored a grant application on the community's behalf, SERCAP awarded the community a Grant of $150,000 through the Facilities Development Grant Program, supplementing the cost and enabling the residents to connect without causing financial hardship. The grant funds will cover both the cost of the connection and availability fees, and the cost of running new service-lines to each impacted household. A contractor for the service-line work has been secured, and SERCAP anticipates that all homes will be connected and accessing public water by April 1, 2019. Connecting to public water will finally provide the residents of Hobson's Upper Village with reliable drinking water that meets all state and federal standards.
*Funding for SERCAP's Regional Department is made possible by the Department of Health & Human Services (HHS) Office of Community Services' (OCS) Grant, USDA RD's Technitrain Program, the Drinking Water Compliance Grant through the EPA, and the EPA Private Well Grant. SERCAP's Facilities Development Grant Program is made possible by a Budget Appropriation from the Virginia General Assembly, which is administered by the Virginia Department of Housing & Community Development (DHCD). Additionally, all of SERCAP's programs in Virginia, are leveraged by the Budget Appropriation from the Virginia General Assembly, administered by DHCD.