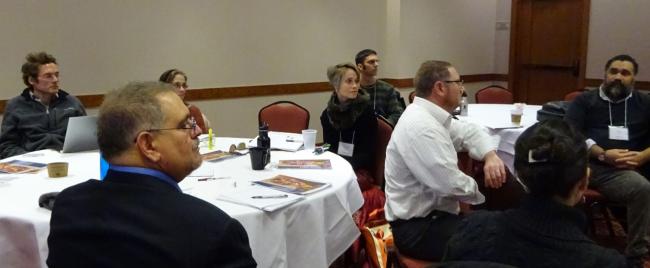 On Wednesday, November 28, 2018, SERCAP's Virginia State Manager participated in the Equitable Economies Panel Discussion, as an invited Panelist, at the 2nd Annual Advancing the Human Condition Symposium at Virginia Tech. The Equitable Economies Panel focused primarily on Water/Wastewater Infrastructure both in the United States and abroad, covering specific topics, including: contamination, aging and failing infrastructure, accessibility issues, disaster recovery of infrastructure systems, and the link between access to water/wastewater facilities and poverty.
Following the formal presentations of the Panelists, the floor was opened-up for questions and further discussion on the aging infrastructure in the United States, and the potential solutions and innovations that may improve both the water/wastewater infrastructure, and overall access to clean, safe drinking water and environmentally sound wastewater systems throughout the United States. SERCAP's Planning Manager was also present at the event and participated in the open discussion.
*Funding for SERCAP's Regional Department is made possible by the Department of Health & Human Services (HHS) Office of Community Services' (OCS) Grant, USDA RD's Technitrain Program, the Drinking Water Compliance Grant through the EPA, and the EPA Private Well Grant. SERCAP's Facilities Development Grant Program is made possible by a Budget Appropriation from the Virginia General Assembly, which is administered by the Virginia Department of Housing & Community Development (DHCD). Additionally, all of SERCAP's programs in Virginia, are leveraged by the Budget Appropriation from the Virginia General Assembly, administered by DHCD.