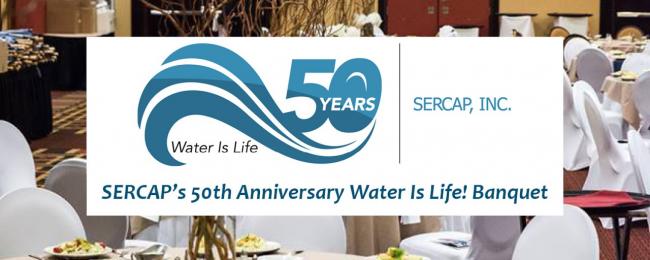 In 2019, SERCAP turns 50 and will celebrate 50 years of providing training, technical, and financial assistance to rural communities and low-income individuals for water, wastewater, housing, and community development needs throughout the Southeast United States. As SERCAP approaches this landmark anniversary, the organization is looking to increase both its presence and its impact across the Commonwealth of Virginia and the Southeast United States. Now, more than ever, SERCAP is seeing a great need for services as water and wastewater infrastructure systems continue to age, and water/wastewater operators reach the age of retirement without an adequate crop of newly trained operators to take their places, especially at rural water/wastewater systems.
In order to help get out the word, SERCAP is reaching out it its loyal Friends and Supporters and requesting they both help SERCAP Celebrate and reach New Friends and Supporters, that will help the agency to continue going strong and improving the Quality of Life for rural communities and their residents for another 50 Years!
On Thursday, April 25, 2019 at the Hotel Roanoke & Conference Center in beautiful downtown Roanoke, VA, SERCAP will host a Celebratory Banquet, that will highlight projects and success stories from the last 50 Years, while emphasizing the need for continued support of water and wastewater projects for the next 50 Years. SERCAP would like to Invite You to join us for this celebration and encourages you to invite your friends and associates to attend, as well.
The Keynote Speaker for this year's event will be Ms. Mia Birdsong. Birdsong graduated from Oberlin College, was an inaugural Ascend Fellow with the Aspen Institute, and was a Class of 2016 New America CA Fellow. Currently, she is a program fellow with the Family-Centered Social Policy program at New America, and she sits on the Board of Directors of both Forward Together and the Tannery Word Dance & Cultural Center. Additionally, she serves as Senior Fellow at the Economic Security Project, and she has served as Co-Director of Family Story. Ultimately, Birdsong has spent her 20+ year career working to change the public's view of Poverty in America.
*Source: https://www.newamerica.org/our-people/mia-birdsong/ (opens new window)
Tickets for the event are only $50.00 per person, and quantities are limited! [Event cancelled due to COVID.]
*Please Contact SERCAP at 540-345-1184 with any questions about the event.