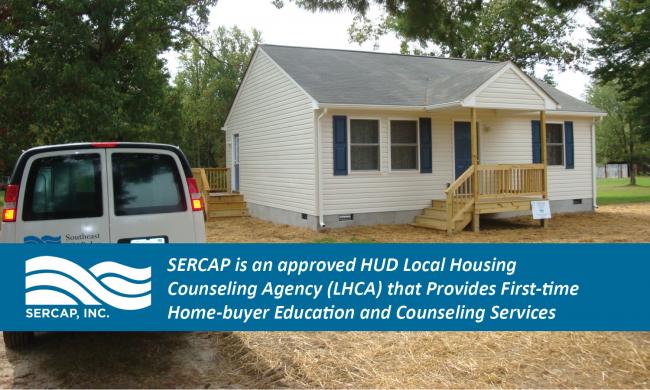 Over the past 15 months, despite the challenges of the COVID-19 pandemic, SERCAP's Housing Counseling Program has continued to provide quality one-on-one counseling and group education services to the community by adapting its service delivery model to embrace technology and utilize web-based workshop and training software. Since becoming an approved HUD Local Housing Counseling Agency (LHCA) back in 2012, SERCAP's Housing Counseling Program has served well over a thousand clients through a variety of Housing Counseling and Financial Literacy services. During the current program year, SERCAP's Housing Counseling Program has served over 450 households (approximately 356 households through group education, and approximately 52 households through one-on-one counseling) through these programs and services.
Most recently, on June 30, 2021, SERCAP's Housing Counseling Program delivered its first Virtual Fair Housing Workshop. As SERCAP has frequently in the past, the Housing Counseling Program once again partnered with Mally Dryden-Mason with the Virginia Department of Professional and Occupational Regulation (DPOR) to deliver this critical workshop. Dryden-Mason is approved by both the Real Estate and Fair Housing Boards as a Course Provider whose workshops meet the requirements for Real Estate Continuing Education (CEUs) and Fair Housing Certification. The Virtual Fair Housing Workshop was attended by 11 individuals, and covered topics including: History of Virginia Fair Housing, Exemptions in the Law, Restrictive Retaliation, and Protected Classes. The virtual workshop was a success, and SERCAP intends to deliver another Fair Housing Workshop in the fall of 2021.
Without SERCAP's full slate of Programs and Services, many low-to-moderate income (LMI) individuals and rural communities would be forced to go without such necessities as safe and affordable housing, reliable access to clean drinking water, indoor plumbing, community development and infrastructure needs, water/wastewater infrastructure solutions, and more. It is important to remember that even in the US in the 21st Century; there are those who do not have reliable access to clean, safe drinking water, environmentally sound septic facilities, and affordable housing. In order to help SERCAP continue to provide assistance to both the individuals and communities in need, please consider making a donation to SERCAP's Water Life! Fund!
Donate Today: https://sercap.networkforgood.com/projects/27202-sercap-s-water-is-life-fund (opens new window).
*Funding for SERCAP's Housing Counseling Program is made possible by two grants from Virginia Housing: the HUD Housing Counseling Grant and the Housing Counseling & Education (HCE) Grant, as well as support from Truist Bank and Wells Fargo. The program is additionally leveraged by a Budget Appropriation, approved by the Virginia General Assembly, and administered by the Virginia Department of Housing & Community Development (DHCD).