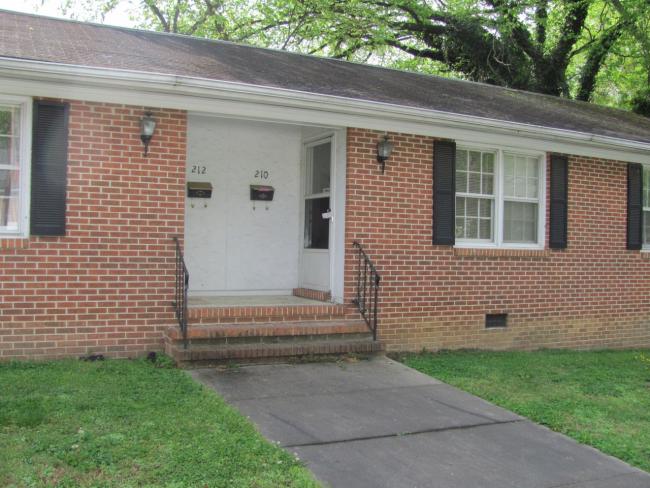 Currently, SERCAP is providing Housing Rehabilitation Specialist Services to the Community Development Block Grant (CDBG) Construction Improvement Grant (CIG) Project for the East Atlantic Street Neighborhood in the City of Emporia, VA. SERCAP was selected as the Housing Rehabilitation Specialist for the project in late 2016, and has been diligently working to complete the rehabilitation of 16 investor-owned housing units and two owner-occupied housing units for the past two+ years.
As part of this CDBG project, SERCAP's Housing Department recently assisted two low-income households through the rehabilitation of one investor-owned Duplex property, which consists of two, two-bedroom units. SERCAP's Housing Rehabilitation Specialists worked with the Contractor, Southerland Building Specialists, to: install new flooring, repair the roof, improve the HVAC System, install a new Water Heater, replace the screen doors, repair some exterior brick work, replace the stove in one unit, install new faucets, and paint. The total project cost came to $30,692.00, and the two low-income households renting the units, now have affordable homes that are warm, safe, and dry, and meet Housing Quality Standards (HQS).
Without SERCAP's Housing Rehabilitation Program, and other similar services, many low-income individuals and communities would be forced to go without such necessities as safe and affordable housing, indoor plumbing, reliable access to clean drinking water, water/wastewater infrastructure solutions, other community development and infrastructure needs, and more. It is important to remember that even in the US in the 21st Century; there are those who do not have reliable access to clean, safe drinking water, environmentally sound septic facilities, and affordable housing. In order to help SERCAP continue to provide assistance to both the individuals and communities in need, please consider making a donation to SERCAP's Water Life! Fund!
Donate Today: https://sercap.networkforgood.com/projects/27202-sercap-s-water-is-life-fund (opens new window).
*SERCAP's Housing Program is primarily made possible through the Virginia Department of Housing & Community Development's (DHCD) Indoor Plumbing & Rehabilitation (IPR) Program, through County Funds (Budget Appropriations) from counties across the Commonwealth of Virginia, and through Program Income Funds from the IPR Program. Virginia's Community Development Block Grant (CDBG) Program is funded by DHCD. Additionally, all of SERCAP's programs in Virginia are leveraged by support from the Virginia Budget Appropriation, granted by the Virginia General Assembly and administered by DHCD.