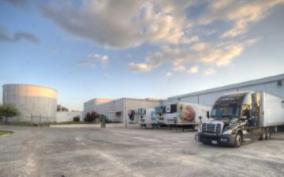 Currently, SERCAP's Regional Department is assisting Richmond Cold Storage (RCS), a non-community water system, in Smithfield, VA, with the completion and submission of the system's Groundwater Withdrawal Permit Renewal Application. RCS, a Non-Transient Non-Community Water System (NTNCWS), provides blast-freezing and cold storage services for the Smithfield Foods Plant, and is served by a single well within the confines of the facility's property. Every 15 years, regulated water systems are required to submit and obtain a permit for the withdrawal of water from the source/s that serve them. It is a long, complex process to complete the application, and requires a level of knowledge and experience that neither the licensed operator nor the facility owners currently possess. In addition to the application itself, the permit application requires several components, including: the completed well-driller's log and state well completion report, drawings of the system layout, geophysical logging information for the well, a water conservation and management plan (WCMP), a mitigation plan based on the aquifer from which the groundwater is withdrawn, and a form certifying compliance with all applicable local ordinances.
In this case, the completion and submission of the lengthy application required a quick turn-around. The mandatory pre-application meeting with the Virginia Department of Environmental Quality (DEQ) took place on April 28, 2020, and the completed application was submitted on the July 7, 2020 deadline. The application review process can take up to 2 years, during which time SERCAP will respond to DEQ's requests for additional information, and RCS will operate under a provisional continuance of the existing permit. Assisting RCS to submit this application by the deadline will allow them to continue operations, and remain in compliance until the review process is complete, and the new permit is issued.
Without SERCAP's Technical Assistance (TA), and other similar services, many communities and low-income individuals would be forced to go without such necessities as reliable access to potable water, indoor plumbing, community development and infrastructure needs, water/wastewater infrastructure solutions, and more. It is important to remember that even in the US in the 21st Century; there are those who do not have reliable access to clean, safe drinking water, environmentally sound septic facilities, and affordable housing. In order to help SERCAP continue to provide assistance to both the individuals and communities in need, please consider making a donation to SERCAP's Water Life! Fund!
Donate Today (opens new window)
*Funding for SERCAP's Regional Department is made possible by the Department of Health & Human Services (HHS) Office of Community Services' (OCS) Grant, USDA RD's Technitrain Program, the Drinking Water Compliance Grant through the EPA, and the EPA Private Well Grant. Additionally, all of SERCAP's programs and services in Virginia are leveraged by a Budget Appropriation from the Virginia General Assembly, which is administered by the Virginia Department of Housing & Community Development (DHCD).