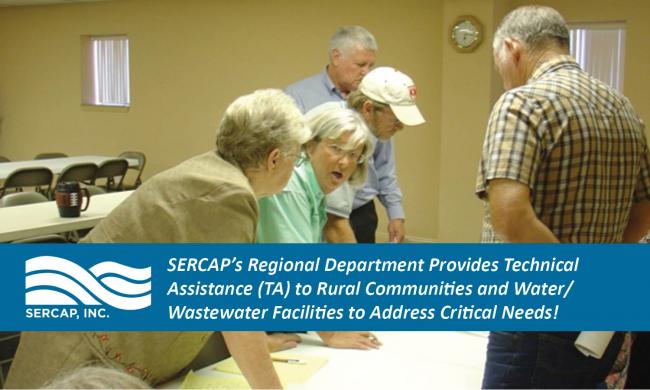 Currently, SERCAP's Regional Program is continuing to work with its partners on the Eastern Shore of Virginia to conduct additional water sampling, this time in the Town of Exmore, Virginia. SERCAP's Technical Assistance Providers (TAPs) recently collected additional water samples from several homes in Exmore, VA, and conducted analysis of the samples.
The Bayside Community residents in the Town are very concerned about the quality of their drinking water due to cloudiness, taste, and discoloring of their tap water. The community has seen numerous changes over the years including large commercial industries opening in their neighborhoods. Both local businesses and private residences are using an over-tapped aquifer on the Eastern Shore as their water source, which could be causing the discoloring of the water. Residents were concerned that their water may be unhealthy, and therefore they reached out to SERCAP for assistance. SERCAP's Regional Program stepped-in, collecting water samples from local residences, performing well assessments, and submitting the collected samples to a local lab. Several homeowners have requested that further testing be completed in additional households throughout the Town.
Without SERCAP's Technical Assistance (TA) and other similar programs and services, many communities, low-income individuals, and families would be forced to go without such necessities as water and wastewater infrastructure solutions, community infrastructure needs, indoor plumbing, properly functioning wells and septic systems, safe and affordable housing, and more. It is important to remember that even in the United States in the 21st Century; there are those who do not have reliable access to clean, safe drinking water, environmentally sound septic facilities, and affordable housing. In order to help SERCAP continue to provide assistance to both the individuals and communities in need, please consider making a donation to SERCAP's Water Life! Fund!
Donate Today: https://sercap.networkforgood.com/projects/27202-sercap-s-water-is-life-fund (opens new window).
*Funding for SERCAP's Regional Department is provided by the Department of Health & Human Services (HHS) Office of Community Services' (OCS) Grant, USDA RD's Technitrain Program, the Drinking Water Compliance Grant through the EPA, and the EPA Private Well Grant. Funding for the Eastern Shore Household Water Sample Testing and Well Assessment Project is provided by an EPA Environmental Justice Collaborative Problem Solving (EPA EJ CPS) Grant. Additionally, all of SERCAP's programs and services in Virginia are leveraged by a Budget Appropriation from the Virginia General Assembly, which is administered by the Virginia Department of Housing & Community Development (DHCD).