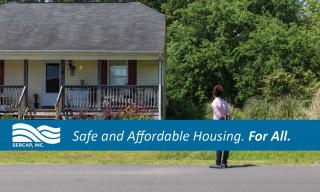 Currently, SERCAP has partnered with the Floyd Initiative for Safe Housing (FISH), a grass-roots organization serving Floyd County, to provide funding for water/wastewater needs for seven (7) households as part of the Floyd County Community Development Block Grant (CDBG) project. In February 2020, SERCAP's Housing Department was selected as the Housing Rehabilitation Specialists for the Floyd County CDBG Planning Grant. The proposed $1.2 million+ scattered site project will provide housing rehabilitation services to 15 low-to-moderate income (LMI) households throughout the county, and was based off housing rehabilitation work initiated by FISH.
SERCAP's Regional Program has obligated $15,000.00 in grant funds to the project through its Facilities Development Grant Program. The funds from SERCAP will be used to address water/wastewater related issues and to make water/wastewater repairs for seven (7) of the 15 households. SERCAP is just one of many partners contributing to the success of the project, including: FISH, New River Community Action, Community Housing Partners, USDA Rural Development, Habitat for Humanity, Sustain Floyd, Renovation Alliance, Citizens Telephone Co-op, and Floyd County.
Without SERCAP's Regional Program and Facilities Development Grant Program, and other similar services, many low-income individuals and communities would be forced to go without such necessities as water/wastewater infrastructure solutions, reliable access to clean drinking water, safe and affordable housing, indoor plumbing, other community development and infrastructure needs, and more. It is important to remember that even in the US in the 21st Century; there are those who do not have reliable access to clean, safe drinking water, environmentally sound septic facilities, and affordable housing. In order to help SERCAP continue to provide assistance to both the individuals and communities in need, please consider making a donation to SERCAP's Water Life! Fund!
Donate Today (opens new window)
*Funding for SERCAP's Regional Department is made possible by the Department of Health & Human Services (HHS) Office of Community Services' (OCS) Grant, USDA RD's Technitrain Program, the Drinking Water Compliance Grant through the EPA, and the EPA Private Well Grant. SERCAP's Facilities Development Grant Program is made possible by a Budget Appropriation from the Virginia General Assembly, which is administered by the Virginia Department of Housing & Community Development (DHCD). Additionally, all of SERCAP's programs in Virginia, are leveraged by the Budget Appropriation from the Virginia General Assembly, administered by DHCD.