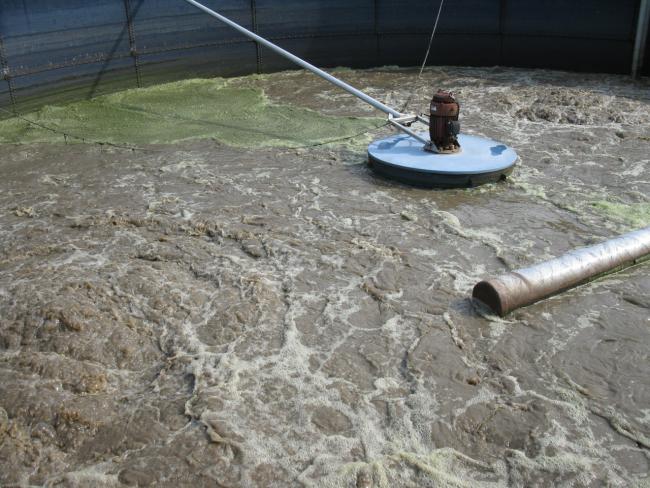 Home to 114 African American residents, the small community of Weems is located in the Greentown and Gaskins Road area of Lancaster County, VA. In 2016, funds from USDA's Rural Utility Service (RUS) and a Community Development Block Grant (CDBG) from the Virginia Department of Housing & Community Development (DHCD) were designated for the construction of a wastewater treatment system to serve the community's 45 households. Initially, a Package Plant known as the Living Machine, which mimics a natural wetland system, was built. This type of system requires a minimum intake of wastewater so it will continually move through the tanks and not lay dormant. However, due to engineering and construction delays, the treatment plant lay idle for a couple of years before it was placed into service.
Since operations began, the plant has experienced a buildup of grease that cannot be processed, inhibiting the plant's ability to function properly. Recently, USDA reached out to SERCAP and requested Technical Assistance to address the problem. SERCAP and key project stakeholders collaborated to develop a preliminary action plan. The plan proposes to obtain and apply two (2) to three (3) months' worth of a grease-eating bacteria, at a cost of only $600 to $800, as an initial innovative solution. If the grease-eliminating product works as well as expected, then this simple and cost effective solution will have saved the County and the community thousands, if not millions, in costly repairs and upgrades to the system.
Without SERCAP's Technical Assistance (TA) and other similar programs and services, many communities, low-income individuals, and families would be forced to go without such necessities as water and wastewater infrastructure solutions, community infrastructure needs, indoor plumbing, properly functioning wells and septic systems, safe and affordable housing, and more. It is important to remember that even in the United States in the 21st Century; there are those who do not have reliable access to clean, safe drinking water, environmentally sound septic facilities, and affordable housing. In order to help SERCAP continue to provide assistance to both the individuals and communities in need, please consider making a donation to SERCAP's Water Life! Fund!
Donate Today (opens new window)
*Funding for SERCAP's Regional Department is made possible by the Department of Health & Human Services (HHS) Office of Community Services' (OCS) Grant, USDA RD's Technitrain Program, the Drinking Water Compliance Grant through the EPA, and the EPA Private Well Grant. Additionally, all of SERCAP's programs in Virginia, are leveraged by a Budget Appropriation from the Virginia General Assembly, administered by the Virginia Department of Housing & Community Development (DHCD).