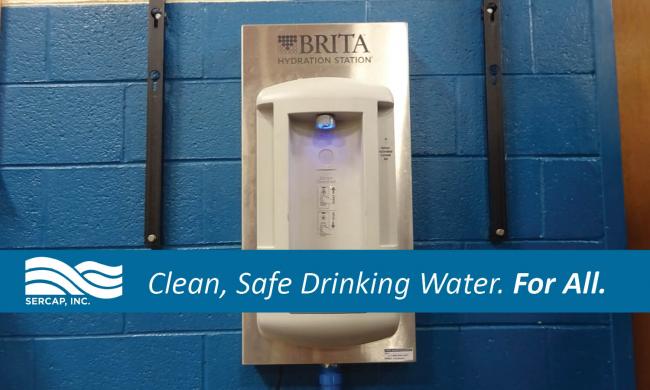 Currently, SERCAP's Regional Program is funding the installation of a new touch-less water filling station for the students, faculty, and staff at Sugar Grove Elementary School in Smyth County, VA. Due to the COVID-19 Pandemic, traditional drinking fountains are no longer being used in public schools, instead they have been replaced by touch-less water filling or hydration stations. Sugar Grove Elementary School already had one (1) touch-less water filling station in place prior to the pandemic, however, this one (1) station has not been enough to meet the school's hydration needs. Fortunately, SERCAP is able to provide a small grant through its Facilities Development Grant Program to fund the installation of a second touch-less water filling station at the school.
The installation of these touch-less water filling stations encourages students to fill-up their own water bottles, helping them to stay hydrated throughout the day. Better hydration has been proven to help students focus on their classwork, and has a positive impact on behavior, improving mood and decreasing the instances of difficult or poor behavior in schools. This second water filling station will be installed in the Spring of 2022, and will benefit the entire Sugar Grove Elementary School community.
Without SERCAP's Regional Program, Facilities Development Grant Program, and other similar services, many communities, low-income individuals, and families would be forced to go without such necessities as water and wastewater infrastructure solutions, community infrastructure needs, indoor plumbing, properly functioning wells and septic systems, safe and affordable housing, and more. It is important to remember that even in the United States in the 21st Century; there are those who do not have reliable access to clean, safe drinking water, environmentally sound septic facilities, and affordable housing. In order to help SERCAP continue to provide assistance to both the individuals and communities in need, please consider making a donation to SERCAP's Water Life! Fund!
Donate Today: https://sercap.networkforgood.com/projects/27202-sercap-s-water-is-life-fund (opens new window).
*Funding for SERCAP's Regional Department is provided by the Department of Health & Human Services (HHS) Office of Community Services' (OCS) Grant, USDA RD's Technitrain Program, the Drinking Water Compliance Grant through the EPA, and the EPA Private Well Grant. Funding for SERCAP's Facilities Development Program is provided by a Budget Appropriation from the Virginia General Assembly, which is administered by the Virginia Department of Housing & Community Development. Additionally, all of SERCAP's programs and services in Virginia are leveraged by the Budget Appropriation from the Virginia General Assembly, administered by DHCD.