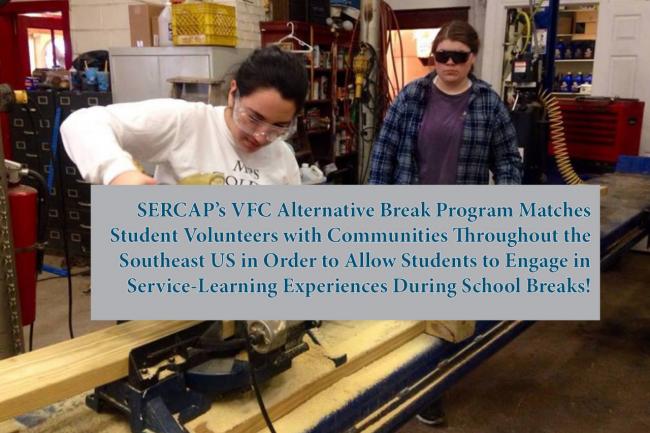 s the beginning of the new 2019/2020 Academic Year approaches, SERCAP's VFC Alternative Break Program is preparing to introduce new host sites, recruit new schools, and inspire more student volunteers to participate in its signature service-learning enrichment program. SERCAP's VFC Alternative Break Program connects College and University Student Volunteer Groups with Community Host-sites where the students engage in a Service-Learning and Cultural Exchange experience as an alternative to traditional activities during school breaks, including: Spring Break, Fall Break, and Summer Break. Student volunteers participate in up to 35 hours of community service throughout the duration of the program, and make a financial contribution of up to $150.00 to the community they are serving, further investing in the well-being of the community as a whole, and establishing a personal history of philanthropy.
Recently, SERCAP's VFC Alternative Break Program secured Project Grows, a nonprofit educational organization located in Verona, VA, as a new Host Site in Virginia, for the 2019/2020 Academic Year. Project Grows works with young people in the cities of Staunton and Waynesboro, and in Augusta County, VA, to improve their overall health through healthy foods education. The organization addresses the needs of the local community by providing young people with garden-based education that ultimately connects them to healthy foods, and better long-term health habits. The Student Volunteers from SERCAP's VFC Alternative Break Program will engage in a variety of services with Project Grows, including: seeding new plants in the greenhouse, spreading mulch and compost, planting, harvesting, assisting with farm field trips, and more, depending upon the specific season.
Without SERCAP's VFC Alternative Break Program, and other similar programs, many low-income communities would be forced to go without such necessities as community development and infrastructure needs, water/wastewater infrastructure solutions, safe and affordable housing, indoor plumbing, and more. It is important to remember that even in the US in the 21st Century; there are those who do not have reliable access to clean, safe drinking water, environmentally sound septic facilities, and affordable housing. In order to help SERCAP continue to provide assistance to both the individuals and communities in need, please consider making a donation to SERCAP's Water Life! Fund!
Donate Today (opens new window)
*SERCAP's VFC Alternative Break Program is primarily made possible through its Program Fees. Additionally, all of SERCAP's programs in Virginia are leveraged by the Budget Appropriation from the Virginia General Assembly, which is administered by the Virginia Department of Housing & Community Development (DHCD).