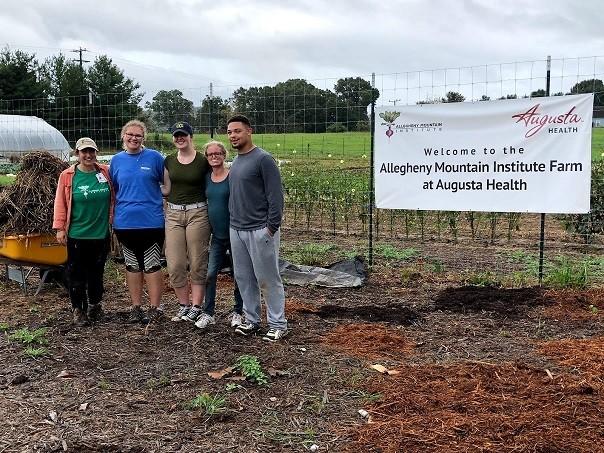 SERCAP's VFC Alternative Break Program is a community service program which partners with Colleges/Universities and Community Host Sites to match civic-minded Student Volunteers with engaging service-learning opportunities during traditional school breaks. This program year, during their Fall Break in October 2018, students from Emory & Henry College travelled north to Fishersville in Augusta County, VA, to team-up with the Alleghany Mountain Institute (AMI) in order to immerse themselves in a truly grass-roots service-learning experience.
The four (4) Student Volunteers from Emory & Henry College served at two AMI Farms where they built picnic tables, assisted with a compost project, and planted seedlings. The picnic tables and compost project helped to build the teaching capacity at AMI's Farm at Augusta Health. As a result of participating in SERCAP's VFC Alternative Break Program the Student Volunteers learned new skills, discovered a new part of rural Virginia, and built relationships with AMI Fellows and community members.
Without SERCAP's VFC Alternative Break Program, and other similar programs, many low-income communities would be forced to go without such necessities as community development and infrastructure needs, water/wastewater infrastructure solutions, safe and affordable housing, indoor plumbing, and more. It is important to remember that even in the US in the 21st Century; there are those who do not have reliable access to clean, safe drinking water, environmentally sound septic facilities, and affordable housing. In order to help SERCAP continue to provide assistance to both the individuals and communities in need, please consider making a donation to SERCAP's Water Life! Fund!
Donate Today: https://sercap.networkforgood.com/projects/27202-sercap-s-water-is-life-fund (opens new window).
*SERCAP's VFC Alternative Break Program is primarily made possible through its Program Fees. Additionally, all of SERCAP's programs in Virginia are leveraged by the Budget Appropriation from the Virginia General Assembly, which is administered by the Virginia Department of Housing & Community Development (DHCD).