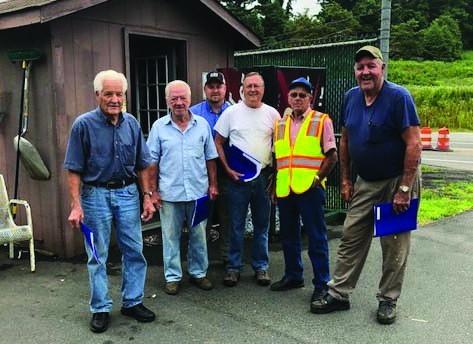 In 2018, SERCAP's Regional Program in North Carolina delivered on-site training to Solid Waste Recycling Center employees in Ashe County, NC. Ashe County is a small county in the northwest corner of NC, and has a population of approximately 27,000 residents. The County has its own Sub-title "D" lined Landfill, and its own manned recycling centers. The County employs 22 part-time workers to run these Solid Waste facilities, though many are of retirement age. The existing landfill facility has approximately five more years of capacity, and the County hopes to expand it on the existing property.
SERCAP first began working with Ashe County through the Solid Waste Program back in 2014, when the agency conducted its first Solid Waste Training in the County. Since then, there have been marked improvements at the facilities in Ashe County, but many of the employees are new and have had no significant training on recycling, safety, and customer-focused communications.
SERCAP conducted on-site training at each of the facilities in the County. The trainings focused on a variety of topics, including: Recycling Commodities, with a particular focus on plastics and single-stream recycling; Used Oil, Auto Batteries, and Household Hazardous Waste, with a particular focus on spill control procedures; Safety; Medical Waste; Communications Techniques and Public Confidence; and Water Quality and Site Cleanliness. Overall, the sites are better run than they were before the training that was conducted in 2014, and SERCAP believes this refresher course will help to continue that trend into the future.
Without SERCAP's technical assistance services and willingness to partner with counties, localities, and other community organizations, many rural communities would be forced to go without such necessities as indoor plumbing, properly functioning wells and septic systems, water and wastewater infrastructure solutions, community infrastructure needs, safe and affordable housing, and more. It is important to remember that even in the United States in the 21st Century; there are those who do not have reliable access to clean, safe drinking water, environmentally sound septic facilities, and affordable housing.
*Funding for SERCAP's Regional Program is provided by the Department of Health & Human Services (HHS) Office of Community Services' (OCS) Grant, USDA RD's Technitrain Program, the Drinking Water Compliance Grant through the EPA, the EPA Private Well Grant, the Solid Waste Grant through USDA Rural Development, and the USDA Rural Development RCDI Grant.