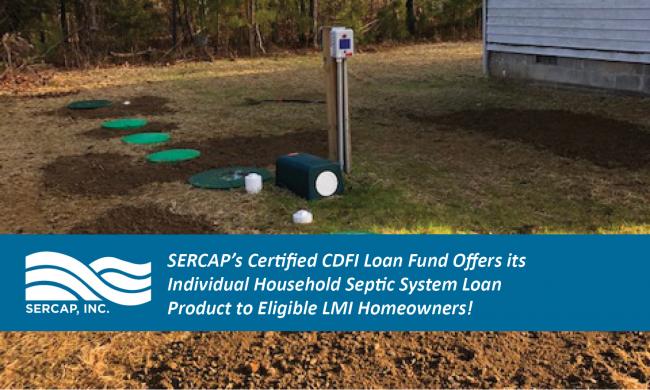 Recently, SERCAP's Certified CDFI (Community Development Financial Institution) Loan Fund assisted a low-income elderly gentleman living in Accomack County, VA, with the installation of a new individual household septic system. The client had just moved into the home, and lived there for only one day, before he began experiencing difficulties with his new home's septic system. The specific problems he experienced with the 47-year-old system included poor filtration and a high-water table. The entire septic system was in need of a voluntary upgrade, according to the Health Department. However, due to his low-income status he was unable to bear the cost of the project without causing financial hardship.
Fortunately, he reached out to SERCAP to request assistance with the project, and the agency's Loan Fund was able to approve him for a $12,000.00 Individual Household Septic Loan to cover the project cost. The completion of the project has fully restored reliable access to an environmentally wastewater solution at the client's home, and the Loan Fund set-up an affordable monthly payment, reducing the potential for any further financial hardship.
Without SERCAP's full slate of Programs and Services, many low-to-moderate income (LMI) individuals/families and rural communities would be forced to go without such necessities as reliable access to clean drinking water, indoor plumbing, safe and affordable housing, community development and infrastructure needs, water/wastewater infrastructure solutions, and more. It is important to remember that even in the US in the 21st Century; there are those who do not have reliable access to clean, safe drinking water, environmentally sound septic facilities, and affordable housing. In order to help SERCAP continue to provide assistance to both the individuals and communities in need, please consider making a donation to SERCAP's Water Life! Fund!
Donate Today: https://sercap.networkforgood.com/ (opens new window)
*Funding for SERCAP's Certified CDFI Community Development Loan Fund is primarily made possible by USDA Rural Development, and SERCAP's own Agency Revolving Loan Fund. Additionally, all of SERCAP's programs in Virginia, are leveraged by an annual Budget Appropriation granted to SERCAP by the Virginia General Assembly, and administered by the Virginia Department of Housing and Community Development (DHCD).