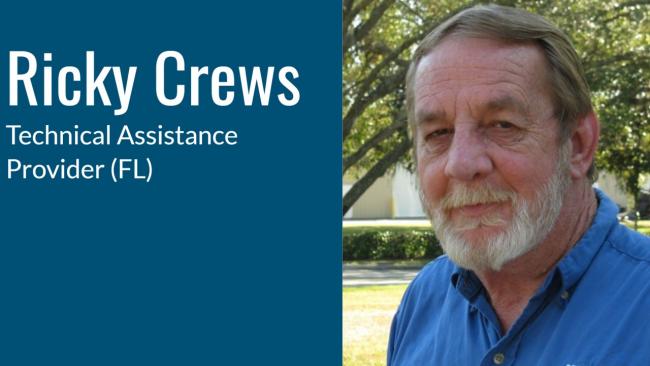 Ricky Crews is not a man you'd find paper-pushing at a desk. He's a tradesman, and proud of it, deservedly so. For decades he's worked in public service positions, from utilities to law enforcement and back again. He's an amazing SERCAP employee, with an incredible resume and a heart for service.
Ricky has a long occupational history working in utilities. He started in the water & sewage industry at age 14, working part time during the school year and full time during the summers. He worked as a mechanic for a local car dealership, where he became an ASE Certified Master Mechanic. After networking with one of his customers, he became the manager for a branch office of Protection Services Inc. While he enjoyed the challenge of that position, he yearned to return to utilities. After working as Public Works Director, he said he found a position at SERCAP because "I was looking for a way that I could help others using my knowledge in water, sewer, and management."
Ricky's work with us is built on a foundation of relational work and a dedication to service. He served with the Orlando Police Department for 10 years after a 4 year tour of duty in the Marines. In 1991, Ricky was awarded the medal of valor for stopping an armed robbery gang; that's only one example of how he strives to serve others. "We help rural communities survive," he said. "I come to work each day with the hope I will help a community or operator resolve any problems that are occurring."
Technical Assistance Providers provide assistance with financial and technical issues that arise in water & wastewater systems. They conduct rate studies and water loss audits, as well as perform relational work such as training operators & board members, and grant writing assistance. This work helps sustain day-to-day functionality as well as long-term functionality of the water systems SERCAP installs, making it crucial to building and maintaining thriving communities.
As you can see from the job description, this role lets Ricky wear many different hats. Part of his job is to meet with officials about issues in their communities. He listens to their concerns, and brainstorms solutions to not only fix the problems but also make everyone happy. This kind of compromising and empathizing suits Ricky well, as a proactive worker hoping to serve others.
The other side of his job is training employees to become operators, as well as conducting CEU classes for licensed operators. "The biggest takeaway from SERCAP is that I can create a place where employees can work at their pace to become operators," he explained. Becoming a licensed operator is no easy task: one year of training on the job, six months of training by the book, and one month of classes. Being able to come alongside of employees and work with them to complete the training is another way in which Ricky's love of community is able to shine. He said "seeing the look on an employee's face after they pass the state exam for water or wastewater" is the most fulfilling part of his job.
As an avid outdoorsman, Ricky enjoys the hobbies you'd expect: fishing, hunting, camping and woodworking. He does have a few surprises, however. For one, he's a self-proclaimed gearhead. He enjoys restoring old cars and trucks, fixing them up to showroom quality. Once restored, he drives them around so others will see his hard work and approach him to ask about his car. He's even won 3 Best In Show awards!
Another surprise: Ricky is an excellent chef. His recipes are so good, they've been published in cookbooks. "My favorite dish is Dirty Rice, but according to my grandchildren, my homemade chicken and dumplings are the best." Both of those sound delicious to us!
From managing million-dollar companies to an honorable police career, Ricky has done it all. At the end of the day, however, he loves his job with SERCAP because it lets him serve others and do the utility work he loves. And that makes him an amazing asset to our team. Thank you for all you do, Ricky!