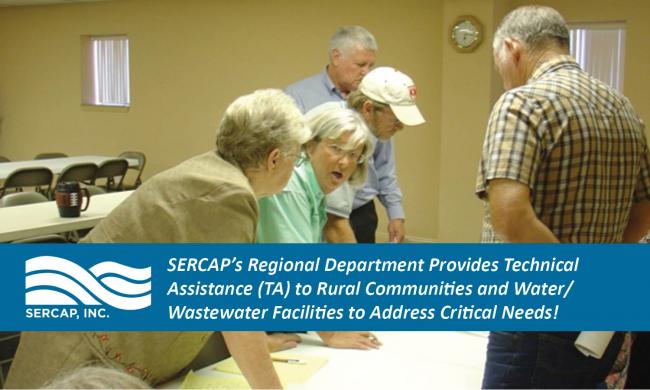 Currently, SERCAP's Regional Department is partnering with the Virginia Chapter of the American Waterworks Association's (AWWA) Water Reach Committee to work with communities across the Commonwealth of Virginia to identify short-term projects which will support long-term community planning and yield a high-level impact on community infrastructure and sustainability. Throughout the course of the COVID-19 Pandemic, rural communities, like their urban and suburban counterparts, have experienced challenges such as staffing issues, making long-term planning and capital investment difficult. Due to their geography, topography, and limited resources, these small, rural communities often struggle to connect households to local water utility systems, leaving residents without access to potable water in their homes. Additionally, maintaining compliance with the new EPA lead and copper regulations has also proved to be a challenge for these rural communities.
Funds are available to assist some of these communities, courtesy of the Infrastructure and Investment Jobs Act, however the low administrative and/or management capacity of most small, rural communities has prevented them from being able to truly access and utilize the funding. The partnership between SERCAP and the Water Reach Committee will provide these communities with: management software training, application assistance for funding applications, and Technical Assistance (TA) for needs assessments, etc. Overall, this collaborative project will support small, rural communities across the Commonwealth of Virginia to address their specific water/wastewater needs through long-term planning and development.
Without SERCAP's full slate of Programs and Services, many rural communities and low-to-moderate income (LMI) individuals would be forced to go without such necessities as reliable access to clean drinking water, indoor plumbing, safe and affordable housing, community development and infrastructure needs, water/wastewater infrastructure solutions, and more. It is important to remember that even in the US in the 21st Century; there are those who do not have reliable access to clean, safe drinking water, environmentally sound septic facilities, and affordable housing. In order to help SERCAP continue to provide assistance to both the individuals and communities in need, please consider making a donation to SERCAP's Water Life! Fund!
Donate Today: https://sercap.networkforgood.com/ (opens new window)
*Funding for SERCAP's Regional Department is provided by the Department of Health & Human Services (HHS) Office of Community Services' (OCS) Grant, USDA RD's Technitrain Program, the Drinking Water Compliance Grant through the EPA, and the EPA Private Well Grant. Additionally, all of SERCAP's programs and services in Virginia are leveraged by an Annual Budget Appropriation from the Virginia General Assembly, which is administered by the Virginia Department of Housing & Community Development (DHCD).