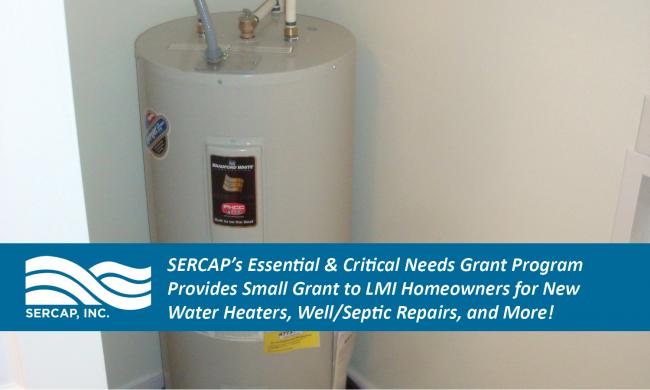 Recently, SERCAP's Regional Technical Assistance Program assisted a low-income individual to increase their well's water production. The client's well was routinely running dry, and was not yielding a sufficient amount of water to meet the client's needs. In order to address this need, SERCAP delivered water straight to the client's well on two occasions. However, that would not be a long-term viable solution for low-yield well use, and SERCAP needed to discover a permanent fix for the well's low water production. SERCAP recommended Well Hydraulic Fracturing or Well Hydro-fracking as a long-term solution.
Well Hydro-fracking is a process that inserts large quantities of water under pressure, within a borehole, to fracture the rock in order to increase water production, and it aims to double the existing yield of the well. This process has been around for decades, used for water supply aquifers, oil/gas reservoirs, and salt solution mining. With the rise of new technology, it has become more prevalent for use in private wells. Under current regulations, and with proper management of the drilling process, it is unlikely that hydraulic fracturing will have any adverse impacts on water wells.
Through its Essential & Critical Needs program and its Water Is Life! Fund, SERCAP was able to provide the client with a grant of $4,000.00 to cover the full cost of the project. Construction was awarded to Fosters Well Drilling, who recently completed the fracking project. Now, the client's well is consistently pumping 1.5 gallons of water per minute, restoring reliable access to potable water for the client.
Without SERCAP's full slate of Programs and Services, many rural communities and low-to-moderate income (LMI) individuals would be forced to go without such necessities as reliable access to clean drinking water, indoor plumbing, safe and affordable housing, community development and infrastructure needs, water/wastewater infrastructure solutions, and more. It is important to remember that even in the US in the 21st Century; there are those who do not have reliable access to clean, safe drinking water, environmentally sound septic facilities, and affordable housing. In order to help SERCAP continue to provide assistance to both the individuals and communities in need, please consider making a donation to SERCAP's Water Life! Fund!
Donate Today: https://sercap.networkforgood.com/ (opens new window)
*Funding for SERCAP's Regional Department is provided by the Department of Health & Human Services (HHS) Office of Community Services' (OCS) Grant, USDA RD's Technitrain Program, the Drinking Water Compliance Grant through the EPA, and the EPA Private Well Grant. SERCAP's Essential & Critical Needs Program is supported by an Annual Budget Appropriation from the Virginia General Assembly, which is administered
by the Virginia Department of Housing & Community Development (DHCD). SERCAP's Water Is Life! Fund is supported by individual donations to SERCAP. Additionally, all of SERCAP's programs and services
in Virginia are leveraged by the same Budget Appropriation from the Virginia General Assembly, administered
by DHCD.