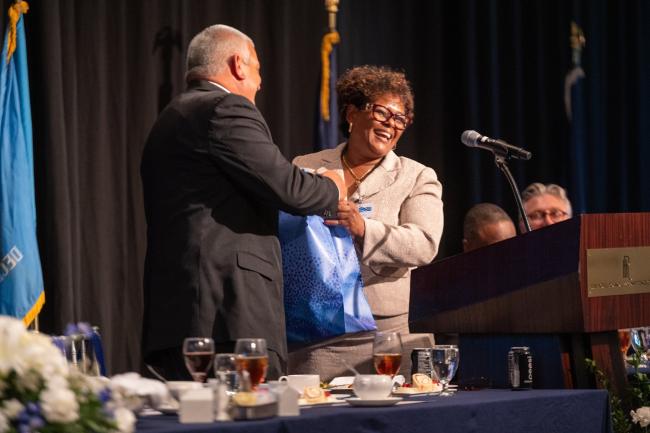 Last week, SERCAP celebrated its 53rd year of serving rural communities and low-to-moderate income (LMI) individuals by hosting its Annual Water Is Life! Celebratory Reception & Banquet in beautiful Roanoke, VA! On Thursday, May 5, 2022, after a two-year hiatus due to the COVID-19 pandemic, SERCAP staff and Board Members once again gathered together with Friends, Supporters, and the General Public at the Hotel Roanoke & Conference Center to celebrate the year's accomplishments in the water/wastewater, housing, and community development fields.
Approximately 165 guests from around the Commonwealth of Virginia and SERCAP's seven state service region attended the event. During the Banquet several SERCAP clients shared their stories and highlighted several of SERCAP's programs and services, including: the ELI Entrepreneurial Mindset Training Program, SERCAP's Regional Technical Assistance (TA) and Essential & Critical Needs Grant programs, and the Indoor Plumbing & Rehabilitation (IPR) Program. The Keynote Address was delivered by Tim Hooper, author of Got Energy. Hooper delivered an address on his own personal experience living without easy access to water for an extended period of time, entitled So Close, Yet So Far Away, and in sharing his own experience he highlighted the challenges that many of SERCAP's clients face every day.
Without SERCAP's full slate of Programs and Services, many rural communities and low-to-moderate income (LMI) individuals would be forced to go without such necessities as reliable access to clean drinking water, indoor plumbing, safe and affordable housing, community development and infrastructure needs, water/wastewater infrastructure solutions, and more. It is important to remember that even in the US in the 21st Century; there are those who do not have reliable access to clean, safe drinking water, environmentally sound septic facilities, and affordable housing. In order to help SERCAP continue to provide assistance to both the individuals and communities in need, please consider making a donation to SERCAP's Water Life! Fund! Donate Today: https://sercap.networkforgood.com/ (opens new window)
*This year's SERCAP Water Is Life! Celebratory Reception & Banquet was made possible by the generous support of local sponsors, including: Wells Fargo, Carter Bank & Trust, Dodson Brothers Pest Control, Virginia Section of the American Water-works Association (AWWA), Bank of Botetourt, Virginia Department of Housing & Community Development (DHCD), First Citizens Bank, Gentry Locke, Giles County, Sir Speedy, TAP (Take Action for Progress), Truist, Virginia Community Capital, Atlantic Union Bank, Virginia Department of Environmental Quality (DEQ) Office of Environmental Justice, Chesapeake Conservancy, and Rapoza & Associates. SERCAP's Water Is Life! Foundation is made possible through the support of SERCAP's Board Members, SERCAP's Staff Members, and through the generosity of private donors. SERCAP's Programs and Services are primarily funded through grants from USDA: Rural Development, EPA, and HHS-OCS. Additionally, SERCAP's programs in Virginia are supported by a Budget Appropriation from the Virginia General Assembly, which is administered by DHCD.