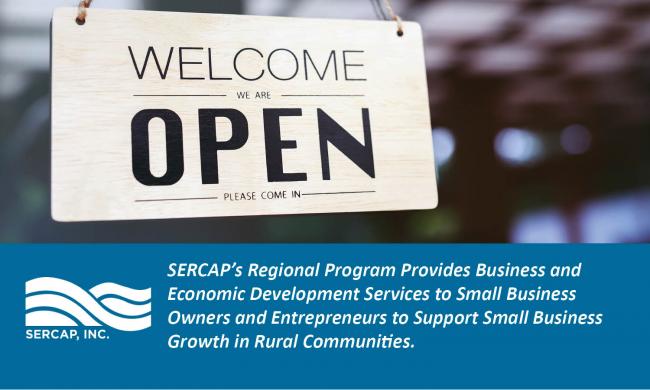 During the Fall of 2021, SERCAP will launch a new Business/Economic Development Program, which will support Entrepreneurs and Small Business Owners across the Commonwealth of Virginia. The new Business/Economic Development Program will provide Technical Assistance (TA) and comprehensive Business Services to individuals looking to start or grow a small business, which will have a positive long-term impact on the community. SERCAP's dedicated Technical Assistance Providers (TAPs) will provide direct TA to both entrepreneurs and small business owners in rural communities that will help them to identify and implement solutions to support business growth.
SERCAP's specific Business Services TA will focus on two (2) primary areas: Financial Tracking & Analysis, and Planning & Digital Marketing. SERCAP's Financial Tracking & Analysis TA will, include: Bookkeeping - both Electronic via Quick-book and Manual Entry, Cash-flow Management, Monitoring of Key Financial Ratios, Turnaround Strategies, and using Financial Statements as a Management Tool. SERCAP's Planning & Digital Marketing TA will include: the development of both Business Models and Business Plans, Feasibility Plans, Marketing Plans, Operations Plans, Strategic Planning, and Social Media Plan development.
SERCAP's new program will specifically assist participants to gain knowledge, acquire tools, and get connected to resources that will enable them to improve their own economic self-sufficiency, and establish business and economic development opportunities in their communities. It will also help participants to achieve their personal and community-wide workforce development, entrepreneurship, and business/economic development goals and outcomes.
Without SERCAP's full slate of Programs and Services, many rural communities and low-to-moderate income (LMI) individuals would be forced to go without such necessities as business and economic development assistance, workforce development and job creation assistance, reliable access to clean drinking water, indoor plumbing, safe and affordable housing, community development and infrastructure needs, water/wastewater infrastructure solutions, and more. It is important to remember that even in the US in the 21st Century; there are those who do not have reliable access to clean, safe drinking water, environmentally sound septic facilities, and affordable housing. In order to help SERCAP continue to provide assistance to both the individuals and communities in need, please consider making a donation to SERCAP's Water Life! Fund!
Donate Today: https://sercap.networkforgood.com/projects/27202-sercap-s-water-is-life-fund (opens new window).
*SERCAP's new Business/Economic Development Program is made possible by support from Wells Fargo from a large grant received by the National Rural Community Action Partnership (RCAP). Additionally, all of SERCAP's programs in Virginia, are leveraged by a Budget Appropriation from the Virginia General Assembly, administered by the Virginia Department of Housing & Community Development (DHCD).