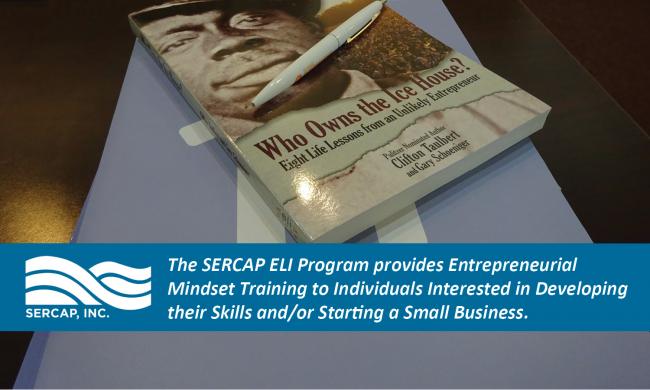 This summer, SERCAP is preparing to launch its new SERCAP ELI Program across the Commonwealth of Virginia, in partnership with the Entrepreneurial Learning Initiative (ELI). The SERCAP ELI Program is an intensive development training program that provides participants with intensive coursework geared towards developing an Entrepreneurial Mindset. Utilizing ELI's Ice House Curriculum, the educational training program covers a variety of concepts, including: Power of Choice, Recognizing Opportunity, Ideas into Action, Pursuit of Knowledge, Creating Wealth, Building your Brand, Creating Community, and the Power of Persistence. Program participants will gain knowledge, develop skills, and get connected to resources that will enable them to improve their own economic self-sufficiency, and establish entrepreneurial opportunities in their communities.
SERCAP will work with community partners, such as Mountain CAP (Community Action Program) and the Virginia Library system, to reach potential program participants across the Commonwealth. SERCAP will provide training and technical assistance to both the program participants and the community partners to help them achieve their personal and community-wide workforce development, entrepreneurship, and economic development goals and outcomes.
Without SERCAP's full slate of Programs and Services, many rural communities and low-to-moderate income (LMI) individuals would be forced to go without such necessities as workforce development and job creation assistance, reliable access to clean drinking water, indoor plumbing, safe and affordable housing, community development and infrastructure needs, water/wastewater infrastructure solutions, and more. It is important to remember that even in the US in the 21st Century; there are those who do not have reliable access to clean, safe drinking water, environmentally sound septic facilities, and affordable housing. In order to help SERCAP continue to provide assistance to both the individuals and communities in need, please consider making a donation to SERCAP's Water Life! Fund!
Donate Today: https://sercap.networkforgood.com/projects/27202-sercap-s-water-is-life-fund (opens new window).
*The SERCAP ELI Program was made possible by funding from a Rural Community Development Initiative (RCDI) Grant from USDA Rural Development, and support from the CSBG (Community Services Block Grant) Supplemental Funds Grant. Additionally, all of SERCAP's programs in Virginia, are leveraged by a Budget Appropriation from the Virginia General Assembly, administered by the Virginia Department of Housing & Community Development (DHCD).