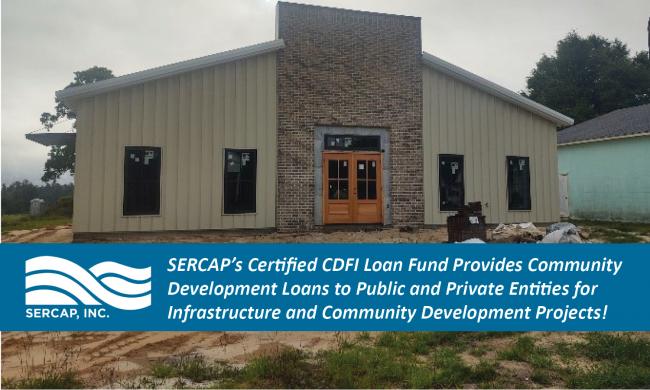 Recently, SERCAP's certified CDFI (Community Development Financial Institution) Loan Fund approved a Community Development Loan for the Town of Hiltonia in Screven County, Georgia. SERCAP's Community Development Loan product provides affordable financing to local government entities, nonprofit organizations, public and private water/wastewater facilities, Public Service Authorities (PSAs), Planning District Commissions (PDCs), and other community organizations in rural communities across the southeast United States, to support critical public infrastructure, community development, and economic development projects.
The Town of Hiltonia, GA is a small rural community with a population of only 323 residents, which sits between Augusta, GA and Savannah, GA. Recently, the Town reached out to SERCAP requesting assistance in securing funds to build a new Town Hall. The old facility was an insufficient space, and during the COVID-19 Pandemic defendants had to wait in their cars before appearing in Court, due to the restrictions. The Town determined that in order to grow, they would need a new permanent Town Hall that would better meet the needs of the community. Fortunately, SERCAP was able to step- in and provide financial assistance in the form of a $250,000.00 Community Development Loan. The total project cost came to $281,775.00, and the loan from SERCAP covers 88.7% of the cost of constructing the new Town Hall. The Town provided $31,775.00 in match funding to support the remaining costs associated with the project. The new Town Hall will serve the Town for decades to come, as Hiltonia continues to grow and prosper.
In the long-term, the positive impact of SERCAP's assistance to the Town of Hiltonia, and to other similar community projects, will be the improved Quality of Life for both the community-at-large and its residents. Providing affordable financing for a new Town Hall, further supports communities and their public infrastructure and development by ensuring that the Town has the facilities needed to fully serve its residents. Such support allows communities to maintain and/or even improve their overall Quality of Life, and especially their Economic Self-sufficiency. In this case, SERCAP's assistance will especially impact the community's Economic Self-sufficiency by supporting a community facility which will improve the Town's infrastructure, and ensure that the residents have public support that will in-turn drive small business growth and community-wide economic development.
*Funding for SERCAP's Certified CDFI Community Development Loan Fund is primarily made possible by USDA Rural Development, and SERCAP's own Agency Revolving Loan Fund.