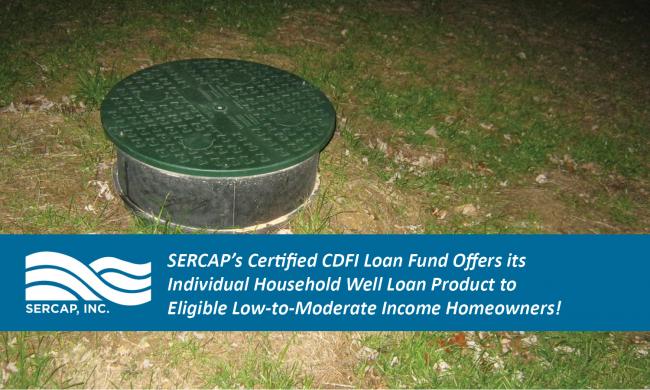 Southeast Rural Community Assistance Project, Inc.'s (SERCAP) certified CDFI (Community Development Financial Institution) Loan Fund has been an intermediary for USDA RD's Individual Household Well Loan program since 2005 (approximately 16 years). The low-interest Individual Household Well Loan Product allows SERCAP to provide low-interest (1%) to low-to-moderate income (LMI) households in order to repair or replace a damaged and/or failing (dry) drinking water well. Eligible applicants can borrow up to $11,000.00 with an interest rate of only 1%, and up to a 10-year loan term.
To qualify for SERCAP's current Individual Household Well Loan product, the residence must be owner-occupied, household must be located in a rural area (population of 50,000 or less according to USDA RD), and applicants must meet the income eligibility for their geographic area. Additionally, SERCAP's dedicated Loan Fund staff work with each individual client to ensure that they get set-up with an affordable monthly payment that will not stress them financially.
Over the 16 years that SERCAP has offered its Individual Household Well Loan Product, the disbursement of its Individual Household Well Loans has been, as follows:
Disbursed a Total of 472 Individual Household Well Loans totaling $2,794,914.62

Been Repaid a Total of 195 Individual Household Well Loans totaling $1,086,784.19,
which has been revolved back into the loan product

Currently have 190 Active Individual Household Well Loans totaling $1,363,913.05
Without SERCAP's Certified CDFI Loan Fund Program, and other similar services, many low-income families and communities would be forced to go without such necessities as reliable access to clean drinking water, indoor plumbing, safe and affordable housing, community development and infrastructure needs, water/wastewater infrastructure solutions, and more. It is important to remember that even in the US in the 21st Century; there are those who do not have reliable access to clean, safe drinking water, environmentally sound septic facilities, and affordable housing. In order to help SERCAP continue to provide assistance to both the individuals and communities in need, please consider making a donation to SERCAP's Water Life! Fund!
Donate Today: https://sercap.networkforgood.com/projects/27202-sercap-s-water-is-life-fund (opens new window).
*Funding for SERCAP's Certified CDFI Loan Fund is primarily made possible by USDA Rural Development, and SERCAP's own Agency Revolving Loan Fund. Additionally, all of SERCAP's programs in Virginia, are leveraged by a Budget Appropriation granted to SERCAP by the Virginia General Assembly, and administered by the Virginia Department of Housing and Community Development (DHCD).