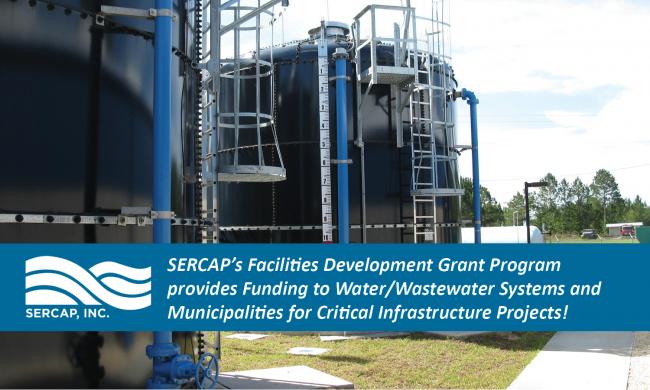 Currently, SERCAP's Regional Department is assisting the Town of Haysi in Dickinson County, VA, through the provision of a Facilities Development Grant. The Town of Haysi is a small, low-income, rural town in far Southwest Virginia with a population of only 596 residents and a Median Household Income (MHI) of $13,859 per year. Due to its small population and low-income status, the Town receives its water service and some wastewater services from the Dickinson County Public Service Authority (DCPSA).
Recently, a severe weather event completely washed out sewer service to several customers just outside of the Town's corporate limits. In an effort to replace and restore service to those customers, the DCPSA applied to SERCAP for Facilities Development Grant funding. Fortunately, SERCAP did have some funds available, and awarded the DCPSA a Facilities Development Grant in an amount just over $15,400.00, in order to execute the project. Work on the repairs will begin immediately, and once complete, wastewater service will be fully restored to the impacted residents.
Without SERCAP's Facilities Development Grant Program and other similar programs and services, many communities, low-income individuals, and families would be forced to go without such necessities as water and wastewater infrastructure solutions, community infrastructure needs, indoor plumbing, properly functioning wells and septic systems, safe and affordable housing, and more. It is important to remember that even in the United States in the 21st Century; there are those who do not have reliable access to clean, safe drinking water, environmentally sound septic facilities, and affordable housing. In order to help SERCAP continue to provide assistance to both the individuals and communities in need, please consider making a donation to SERCAP's Water Life! Fund!
Donate Today: https://sercap.networkforgood.com/projects/27202-sercap-s-water-is-life-fund (opens new window).
*Funding for SERCAP's Regional Department is provided by the Department of Health & Human Services (HHS) Office of Community Services' (OCS) Grant, USDA RD's Technitrain Program, the Drinking Water Compliance Grant through the EPA, and the EPA Private Well Grant. Funding for SERCAP's Facilities Development Grant Program is provided by a Budget Appropriation from the Virginia General Assembly, which is administered by the Virginia Department of Housing & Community Development (DHCD). Additionally, all of SERCAP's programs and services in Virginia are leveraged by the Budget Appropriation from the Virginia General Assembly, administered by DHCD.