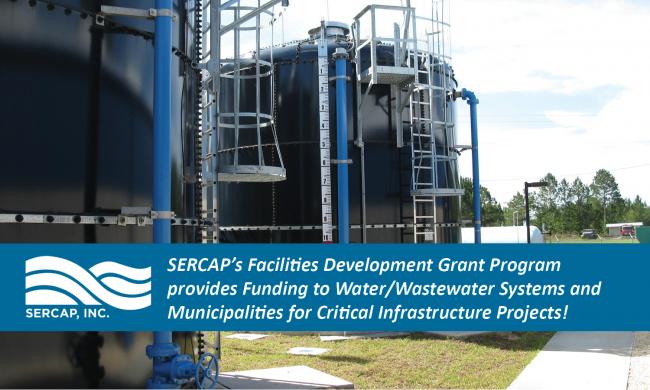 Recently, SERCAP's Facilities Development Program awarded a Facilities Development Grant to the Davis Center Foundation in Accomack County, Virginia. SERCAP's Facilities Development Program provides financial assistance to nonprofits, local government entities, public and private water/wastewater facilities, Public Service Authorities (PSAs), and Planning District Commissions (PDCs) in rural communities across the Commonwealth of Virginia, to support critical water/wastewater infrastructure and community development projects.
The Davis Center Foundation is establishing the Davis Center, a community center, in the small village of Whitesville on the Eastern Shore of Virginia. Whitesville is a small rural community with a population of just under 200 residents; 72% of whom are living below the poverty-line. The Davis Center broke-ground in 2020 as a space for community members to gather, collaborate, interact, and support creative endeavors. The Center intends to provide the community with an entrepreneurial hub, creative workspace, technology center, and youth enrichment resource. Recently, the Davis Center Foundation reached out to SERCAP for financial assistance to cover the cost of constructing both a new well and alternative septic system for the Center. Fortunately, SERCAP has been able to step-in and provide financial assistance in the form of a $50,000.00 Facilities Development Grant. The grant will cover the cost of constructing the well and alternative septic system for the Davis Center, supporting the Center's water/wastewater infrastructure with a reliable source of potable water and an environmentally sound wastewater solution.
Without SERCAP's Facilities Development Program and other similar services, many communities,
low-income individuals, and families would be forced to go without such necessities as water and wastewater infrastructure solutions, community infrastructure needs, indoor plumbing, properly functioning wells and septic systems, safe and affordable housing, and more. It is important to remember that even in the United States in the 21st Century; there are those who do not have reliable access to clean, safe drinking water, environmentally sound septic facilities, and affordable housing. In order to help SERCAP continue to provide assistance to both the individuals and communities in need, please consider making a donation to SERCAP's Water Life! Fund!
Donate Today: https://sercap.networkforgood.com/projects/27202-sercap-s-water-is-life-fund (opens new window).
*Funding for SERCAP's Regional Department is provided by the Department of Health & Human Services (HHS) Office of Community Services' (OCS) Grant, USDA RD's Technitrain Program, the Drinking Water Compliance Grant through the EPA, and the EPA Private Well Grant. Funding for SERCAP's Facilities Development Program is provided by a Budget Appropriation from the Virginia General Assembly, which is administered by the Virginia Department of Housing & Community Development. Additionally, all of SERCAP's programs and services in Virginia are leveraged by the Budget Appropriation from the Virginia General Assembly, administered by DHCD.