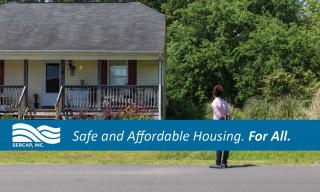 Recently, SERCAP's Housing Department was approved as one of the intermediaries to deliver the Virginia Department of Housing & Community Development's (DHCD) Lead Hazard Reduction Program. The Lead Hazard Reduction Program provides eligible households with technical and financial assistance to reduce lead paint hazards in their home. The Program focuses on Low-to-Moderate Income (LMI) households with either a child under the age of six living in or spending a significant amount of time in the household, or households with a pregnant woman.
SERCAP's Housing Department will be conducting lead hazard inspections, determining lead reduction work to be completed, overseeing contracted completion of the work, and overseeing all administrative tasks associated with each household project. The program is currently open and accepting applications from eligible households. For more information and/or to apply for the program, SERCAP's Housing Department can be reached at 540-345-1184 ext. 127.
Without SERCAP's Housing Programs, and other similar services, many low-income families and communities would be forced to go without such necessities as safe and affordable housing, reliable access to clean drinking water, indoor plumbing, community development and infrastructure needs, water/wastewater infrastructure solutions, and more. It is important to remember that even in the US in the 21st Century; there are those who do not have reliable access to clean, safe drinking water, environmentally sound septic facilities, and affordable housing. In order to help SERCAP continue to provide assistance to both the individuals and communities in need, please consider making a donation to SERCAP's Water Life! Fund!
Donate Today (opens new window)
*SERCAP's Housing Program is primarily made possible through the Virginia Department of Housing & Community Development's (DHCD) Indoor Plumbing & Rehabilitation (IPR) Program, through County Funds (Budget Appropriations) from counties across the Commonwealth of Virginia, and through Program Income Funds from the IPR Program. The Lead Hazard Reduction Program is made possible by funding from DHCD. Additionally, all of SERCAP's programs in Virginia are leveraged by support from the Virginia Budget Appropriation, granted by the Virginia General Assembly and administered by DHCD.