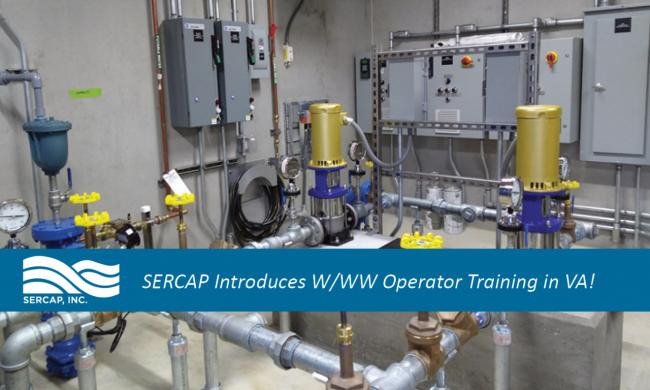 SERCAP's Regional Department, in partnership with Spring Point Partners and Mountain Empire Community College, is in the process of establishing a Water/Wastewater Operator Training Program in Virginia. The program will help individuals, looking to establish a new career or change careers to a highly employable field, to meet the requirements for sitting for the state licensure exam to become a water and/or wastewater operator. Currently, the water/wastewater field is experiencing a shortage of qualified individuals to fill operator positions. The majority of the existing slate of water/wastewater operators are nearing retirement, and there is a severe lack of qualified candidates to replace them.
SERCAP's Water/Wastewater Operator Training Program will be open to anyone interested in learning the trade, however, will focus recruiting efforts on high school seniors who are looking to establish a career in a technical field with the opportunity for growth. This will help to establish a pipeline of young people who may stay in the field for many years. Additionally, SERCAP will also target individuals who have lost jobs in a field that has disappeared, such as coal mining, bringing in experienced mid-career individuals to round out the field of potential candidates. SERCAP's Water/Wastewater Operator Training Program will provide candidates with both financial and technical support to help them successfully navigate the process of acquiring the requisite licensing to become a water and/or wastewater operator.
Without SERCAP's Training and Technical Assistance Programs, and other similar services, many low-to-moderate income (LMI) individuals and communities would be forced to go without such necessities as reliable access to clean drinking water, water/wastewater infrastructure solutions, safe and affordable housing, indoor plumbing, other community development and infrastructure needs, and more. It is important to remember that even in the US in the 21st Century; there are those who do not have reliable access to clean, safe drinking water, environmentally sound septic facilities, and affordable housing. In order to help SERCAP continue to provide assistance to both the individuals and communities in need, please consider making a donation to SERCAP's Water Life! Fund!
Donate Today (opens new window)
*Funding for SERCAP's Regional Department is made possible by the Department of Health & Human Services (HHS) Office of Community Services' (OCS) Grant, USDA RD's Technitrain Program, the Drinking Water Compliance Grant through the EPA, and the EPA Private Well Grant. SERCAP new Water/Wastewater Operator Training Program is primarily made possible through funding from Spring Point Partners. Additionally, all of SERCAP's programs in Virginia, are leveraged by a Budget Appropriation from the Virginia General Assembly, administered by the Virginia Department of Housing & Community Development (DHCD).