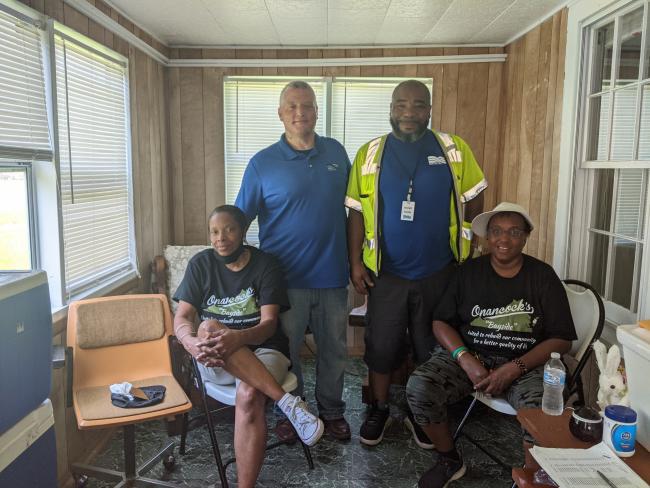 According to the US Environmental Protection Agency (EPA), Environmental Justice is: "the fair treatment and meaningful involvement of all people regardless of race, color, national origin, or income with respect to the development, implementation, and enforcement of environmental laws, regulations, and policies."
Access to potable water and reliable wastewater facilities is critical to public and environmental health, community and economic development, and livability of all communities. However, many low-income, rural, and primarily African American communities have been overlooked or even denied access to these basic necessities. Since its founding in 1969, Southeast Rural Community Assistance Project, Inc. (SERCAP) has worked to bring clean, safe drinking water and environmentally sound wastewater disposal solutions to these minority communities that have been otherwise ignored by the general population. Over the past few years, SERCAP has received numerous Environmental Justice Grants from the EPA to address water and wastewater environmental justice issues within the agency's seven-state service region of Delaware, Maryland, Virginia, North Carolina, South Carolina, Georgia, and Florida.
Currently, SERCAP's Regional Program is partnering with the Eastern Shore Area Agency on Aging (ESAAA), Onancock's Bayside Revitalization Team, and several local community volunteers to conduct a Household Water Sample Testing and Well Assessment Project on the Eastern Shore of Virginia. The Eastern Shore is a rural area consisting of two Virginia counties; Accomack County and Northampton County. Combined the counties have a population of approximately 45,299 residents, and approximately 30.81% of Eastern Shore residents are African American, according to recent US Census data. SERCAP has been working on the Eastern Shore of Virginia for many years, and has completed numerous water/wastewater projects. However, the area still struggles with its water/wastewater infrastructure, and this water sampling and well assessment project will help to collect data that will guide the community and their leadership in how best to improve their water/wastewater infrastructure moving forward.
SERCAP's team of Regional Technical Assistance Providers (TAPs) kicked-off the project in August of 2021 with several on-line training sessions, via Zoom, on 'How to Properly Take a Household Water Sample'. Following these on-line trainings, several SERCAP TAPs visited the Town of Onancock, in Accomack County, to meet with the community volunteers and take water samples from 34 households. The entire Board of the Bayside Revitalization Team and several staff members with ESAAA assisted with the water sampling. During this first sampling round, SERCAP's TAPs and the community volunteers took water samples and conducted well assessments for the 34 participating households. The water samples were taken to Enthalpy Analytical Laboratories for analysis.
Later, SERCAP's TAPs returned, this time to the Town of Exmore in Northampton County, to collect additional water samples. The Bayside Community residents in the Town of Exmore are very concerned about the quality of their drinking water due to cloudiness, taste, and discoloring of their tap water. The community has seen numerous changes over the years including large commercial industries opening in their neighborhoods. Both local businesses and private residences are using an over-tapped aquifer on the Eastern Shore as their water source, which could be causing the discoloring of the water. Residents were concerned that their water may be unhealthy, and therefore they reached out to SERCAP for assistance. SERCAP's Regional Program stepped-in, collecting water samples from local residences, performing well assessments, and submitting the collected samples to a local lab. Several homeowners have requested that further testing be completed in additional households throughout the Town.
This is an ongoing project, but once the Water Sampling and Well Assessment phase is complete, SERCAP will work with the community residents to develop solutions that will strengthen their water/wastewater infrastructure, and assist them in securing reliable access to clean, safe drinking water.
*Funding for SERCAP's Regional Department is provided by the Department of Health & Human Services (HHS) Office of Community Services' (OCS) Grant, USDA RD's Technitrain Program, the Drinking Water Compliance Grant through the EPA, and the EPA Private Well Grant. Funding for the Eastern Shore Household Water Sample Testing and Well Assessment Project is provided by an EPA Environmental Justice Collaborative Problem Solving (EPA EJ CPS) Grant. Additionally, all of SERCAP's programs and services in Virginia are leveraged by a Budget Appropriation from the Virginia General Assembly, which is administered by the Virginia Department of Housing & Community Development (DHCD).