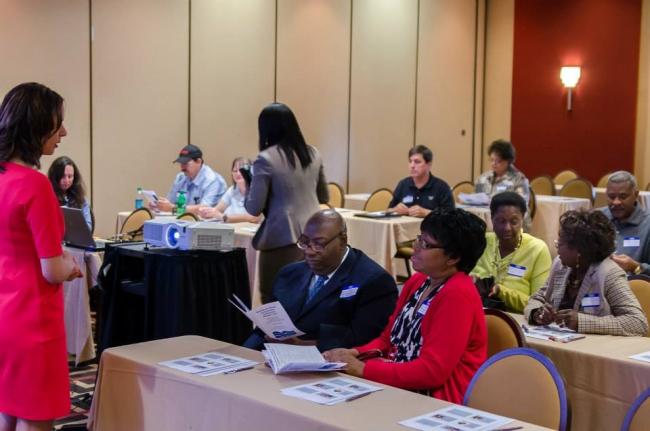 SERCAP, Inc a 501(c)3 not for profit is accepting applications to fill a full time Housing Counseling Manager position. This person must have a National or Virginia Housing Counseling Certification.
The salary range for this position is $39,000-$42,000. We will accept applications until January 26, 2018 at 12 noon. For a job description, please visit our website at: www.sercap.org.
If interested please email cover letters and resumes to: lbanks@sercap.org
Program Description: Southeast RCAP is a regional program that provides training, technical assistance, and seed funds to CAAs, CBOs, elected/appointed officials and the private sector in developing affordable safe drinking water/sanitary waste facilities and other needed services to serve low-income rural residents.
DEPARTMENT Housing & Community Development
JOB TITLE: Housing Counselor Manager
Salary: See Salary Chart
GENERAL DESCRIPTION/ESSENTIAL FUNCTIONS:
This position will provide telephone, in-person and webinar/Skype information, guidance and counseling to those seeking assistance in planning for and maintaining home ownership and financial literacy.
DUTIES:
Present homeownership/financial literacy seminars.
Work with clients on a one-on-one basis to help them achieve homeownership/financial literacy goals.
Provide budget and credit counseling tailored to each client's unique circumstances.
Follow up with clients to ensure they are following through on their homeownership/financial literacy goals.
Receive inquires via e-mail, telephone and direct client contact and take appropriate action, either as a direct services provider or as referral source.
Create, maintain and update client files, both in the database and hard copies.
Complete program reporting.
Works with state and local agencies and officials on joint efforts for housing needs.
Coordinates with staff of community action agencies, community-based organizations, and local governments as it relates to the work of SERCAP.
Complete and submit program reports as required.
Performs other duties as needed and directed by the Director of Housing & Community Development.
QUALIFICATIONS:
BS or BA or the equivalent, such as an AA degree and 2-3 years housing/financial literacy counseling experience.
Housing Counseling certification from HUD, Neighbor Works or a related nationally recognized housing counseling organization.
Knowledge of affordable housing issues and financial literacy.
Experience in presenting and organizing seminars.
Knowledge of mortgage application process, and home buying process
Demonstrated ability to work one on one with clients.
Excellent organizational skills and high performance standards.
Excellent program management skills, ability to work independently, motivated and innovative.
Proficiency in analyzing numbers, calculations and financing.
Computer literacy and keyboard proficiency, including Word, Excel and social media sites.
Ability to communicate and relate to clients in both verbal and written fashion in English and Spanish.
Ability to work several evenings a month with advance notice. Weekend hours may be required occasionally with advance notice.
Experience in community outreach.
Must be able to travel extensively which includes traveling for week-long national trainings at least twice a year.
Valid driver's license
SUPERVISES:
Housing Counselors
SUPERVISED BY:
Director of Housing & Community Development